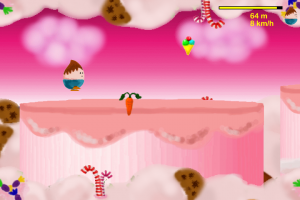 Help the Boy to run as long as he can through a world of cakes, carrots, ice cream and sugar canes.
This is a classic jump and run. Run as long as you can. Hit the screen to jump or double-jump.
Play alone or against another player, and try to achieve as many achievements as possible!
Features:
3 difficulty levels
High score list per level and with names
High score resettable
help page
In-game music
In-game music can be switched off
Status bar off or on – for those who want to keep an eye on the time
Single Player or Multi Player mode
Support for bigger screen on iPhone 5
Achievement system
Your record distances are marked on Screen
This game was programmed by our intern, Lukas Jünemann, a 16 year old school-kid and is based on ixrunner by Patrick Völcker (see http://iosgames.de/ ). The graphics are from Tina Bloch. Music is Cipher from Kevin MacLeod.
Have fun!
Link to the iTunes store: https://itunes.apple.com/de/app/cakejumper/id536119973?mt=8