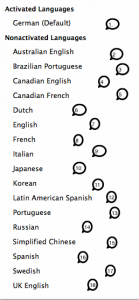 When you want to publish your app in the Apple App Store, you have the choice in which countries you want your app to be offered. I have not counted the number of countries lately, but hey, it is a long list, so you probably rather click on "all countries".
Since every app has it's own App-Store "webpage", you have to decide in which language the app description in this webpage will be. The easiest choice is to use only one language, e.g. english. But I decided different and used german, english, spanish and french descriptions of my apps. Nowadays, when you create a new app, you can select which language will be used as the default language. But my apps are still stuck with the options at that time and this meant: German as default language. I already wrote about the default language issue in the app store some time ago here.
Now imagine I have these 4 descriptions in those four languages. So I go to iTunes Connect and it offers me the choice of 18 languages (see picture) as of today. While you may know, that the word sundowner is listed in an australian dictionary, the question, if the Apple App Store of New Zealand will make use of my text filed under:
UK English
Australian English
English
is not as easy to be answered. To answer that: Apple uses the text you store under Australian English for New Zealand as well.
But what if I did not store any text as Australian English? Then your apps webpage will get the content from your default language, of course. Unfortunately for me, the default language of my existing apps is German, which is rather inappropriate for New Zealand customers. In order to have a complete list of all stores and their iTunes-Connect language settings being used, Jonathan and I compiled this list.
Instruction: If your app website address is
http://itunes.apple.com/de/app/tischrede-app/id459096545?mt=8
then the de in the address above indicates the german store, because de is the ISO 3166-1 code for Germany. I can not guarantee that Apple really uses this code, but at least I tried the codes below and most of them worked. (If you prefer a pdf version of the list, download it here).
Enjoy and feel free to share…
| | | | |
| --- | --- | --- | --- |
| iTunes Country | Code | Language | Comment |
| | | | |
| Europe | | | |
| België | be | UK English | benl' doesn't work |
| Belgique | be | UK English | befr' doesn't work |
| България (Bulgaria) | bg | UK English | |
| Česká republika | cz | UK English | |
| Danmark | dk | UK English | |
| Deutschland | de | German | |
| Eesti | ee | UK English | |
| España | es | Spanish | |
| France | fr | French | |
| Greece | gr | UK English | |
| Hrvatska (Kroatia) | hr | UK English | |
| Ireland | ie | UK English | |
| Italia | it | Italian | |
| Latvija | lv | UK English | |
| Liechtenstein | li | English | |
| Lietuva | lt | UK English | |
| Luxembourg | lu | UK English | |
| Macedonia | mk | UK English | |
| Magyarország (Hungary) | hu | UK English | |
| Malta | mt | UK English | |
| Moldova | md | UK English | |
| Montenegro | me | Error | |
| Nederland | nl | Dutch | |
| Norge | no | UK English | |
| Österreich | at | German | |
| Polska | pl | UK English | |
| Portugal | pt | Portuguese | |
| România | ro | UK English | |
| Россия (Russia) | ru | Russian | |
| Slovakia | sk | UK English | |
| Slovenia | si | UK English | |
| Schweiz | chde | Error | |
| Suisse | chfr | Error | |
| Suomi (Finnland) | fi | UK English | |
| Sverige | se | Swedish | |
| Türkiye | tr | UK English | |
| UK | uk | UK English | changes to gb |
| | | | |
| Asia Pacific | | | |
| Australia | au | Australian English | |
| 中国 (China) | cn | Simplified Chinese | |
| Hong Kong (English) | hk/en | | Not found |
| 香港 (Hong Kong) | hk | UK English | |
| Indonesia | id | UK English | |
| 日本 (Japan) | jp | Japanese | |
| 대한민국 (Korea) | kr | Korean | |
| Malaysia | my | UK English | |
| New Zealand | nz | Australian English | |
| Philippines | ph | UK English | |
| Singapore | sg | UK English | |
| 台灣 (Taiwan) | tw | UK English | |
| Thailand | th | UK English | |
| Vietnam | vn | UK English | |
| Other Asia | asia | | |
| | | | |
| Africa, Middle East | | | |
| Armenia | am | UK English | |
| Botswana | bw | UK English | |
| Bahrain | bh | UK English | |
| Cameroun | cm | English | |
| Centre Afrique | cf | Error | |
| Côte d'Ivoire | ci | English | |
| Egypt | eg | UK English | |
| Guinea-Bissau | gw | Error | |
| Guinée | gn | Error | |
| Guinée Equatoriale | gq | Error | |
| India | in | UK English | |
| Israel | il | UK English | |
| Jordan | jo | UK English | |
| Kenya | ke | UK English | |
| Kuwait | ku | English | |
| Madagascar | mg | UK English | |
| Mali | ml | UK English | |
| Maroc | ma | Error | |
| Mauritius | mu | UK English | |
| Mozambique | mz | Error | |
| Niger | ne | UK English | |
| Nigeria | ng | UK English | |
| Oman | om | UK English | |
| Qatar | qa | UK English | |
| Saudi Arabia | sa | UK English | |
| Sénégal | sn | UK English | |
| South Africa | za | UK English | |
| Tunisie | tn | UK English | |
| Uganda | ug | UK English | |
| United Arab Emirates | ae | UK English | |
| | | | |
| Latin America | | | |
| Anguilla | ai | UK English | points to lae |
| Antigua & Barbuda | ag | UK English | points to lae |
| Argentina | ar | Latin American Spanish | points to la |
| Barbados | bb | UK English | points to lae |
| Belize | bz | UK English | points to lae |
| Bermuda | bm | UK English | points to lae |
| Bolivia | bo | Latin American Spanish | points to la |
| Brasil | br | Brazilian Portuguese | |
| British Virgin Islands | vg | UK English | points to lae |
| Cayman Islands | ky | UK English | points to lae |
| Chile | cl | Latin American Spanish | points to la |
| Colombia | co | Latin American Spanish | points to la |
| Costa Rica | cr | Latin American Spanish | points to la |
| Dominica | dm | UK English | points to lae |
| República Dominicana | do | Latin American Spanish | points to la |
| Ecuador | ec | Latin American Spanish | points to la |
| El Salvador | sv | Latin American Spanish | points to la |
| Grenada | gd | UK English | points to lae |
| Guatemala | gt | Latin American Spanish | points to la |
| Guyana | gy | UK English | points to lae |
| Honduras | hn | Latin American Spanish | points to la |
| Jamaica | jm | UK English | points to lae |
| México | mx | Latin American Spanish | |
| Montserrat | ms | UK English | points to lae |
| Nicaragua | ni | Latin American Spanish | points to la |
| Panamá | pa | Latin American Spanish | points to la |
| Paraguay | py | Latin American Spanish | points to la |
| Perú | pe | Latin American Spanish | points to la |
| St. Kitts & Nevis | kn | UK English | points to lae |
| St. Lucia | lc | UK English | points to lae |
| St. Vincent & The Grenadines | vc | UK English | points to lae |
| Suriname | sr | UK English | points to lae |
| The Bahamas | bs | UK English | points to lae |
| Trinidad & Tobago | tt | UK English | points to lae |
| Turks & Caicos | tc | UK English | points to lae |
| Uruguay | uy | UK English | points to la |
| Venezuela | ve | Latin American Spanish | points to la |
| América Latina y el Caribe (Español) | la | Error | |
| Latin America and the Caribbean (English) | lae | Error | |
| | | | |
| US, Canada | | | |
| Canada (English) | ca | Canadian English | |
| Canada (Français) | ca/fr | | Not found |
| Puerto Rico (English) | pr | Error | points to lae |
| Puerto Rico (Español) | pr | Error | points to lae |
| USA | us | English | |